12 Things to Around Myrtle Beach for Adults
Myrtle Beach is no secret; it is just the opposite. As a well-known oceanfront paradise town nestled in the heart of South Carolina, this Grand Strand gem is famous for its easy access to sandy beaches, watersports, and seafood-fueled "Low Country Boils."
While this beach town is certainly built to entertain families, Myrtle Beach isn't just for sandcastles and ice cream cones! This coastal town is brimming with experiences beyond the typical tourist trail, making it a perfect destination for a couple and friend's getaways.
Whether you're staying in one of our magnificent
hotel BLUE suites
for a romantic escape, a solo adventure, or a getaway with old friends, Myrtle Beach has plenty of things to keep adults occupied all day and well into its exciting nightlife.
Here are some of the top things to do in Myrtle Beach for adults this season!
Spend the Day at Broadway at the Beach
Photo Credit:
StacieStauffSmith Photos
Broadway at the Beach is your one-stop shop for all things entertainment in the Myrtle Beach area. The property is split into different areas. You'll find live entertainment, shopping, dining, and an adventure complex across this 350-acre funplex.
Broadway at the Beach provides the perfect 'adult's day out' in Myrtle Beach with escape games, amusement parks, Ripley's Aquarium, the Hollywood Wax Museum, and plenty of boutiques and stores to peruse. Are you headed out only for the evening? The nearby
Topgolf
is the perfect adult activity to get some friendly competition flowing, complete with fantastic food and cold drinks!
Ready for a bite to eat? You can try Lowcountry cooking at any of the 20 restaurants and bars lining the outdoor streets. You'll find everything from shrimp and grits at
Roosters Restaurant and Bar
to fine Southern cuisine at
Paula Deen's Family Kitchen
.
Just when you thought the fun was over, as the sun sets, Broadway at the Beach transforms into a hub of nightlife options. Bars like the party-ready
Señor Frogs
, live music venues, and multiple theaters create an atmosphere that invites you to extend the excitement long into the night. Make sure to save Tuesday evenings to watch the 10:00 PM fireworks during the summer!
Visit Brookgreen Gardens
Photo Credit:
Larry Porges
Meander along the walkways of
Brookgreen Gardens
, a peaceful retreat away from the hustle and bustle of downtown Myrtle Beach. Here, you can enjoy the simpler (and quieter) things in life as you explore a magnificent place: part botanical garden, part art exhibit, and even part zoo!
Brookgreen Gardens was founded to preserve sculptural artistry and provide a space for the preservation of American flora species and Southern animals. In addition to natural beauty, the gardens boast their very own art exhibits. These are primarily focused on sculpture- and multiple music events throughout the year. Visitors flock to the area to learn about Low Country history and even visit the Lowcountry Zoo!
Stroll around the outdoor art exhibitions that dot along the Lowcountry trail and revel in the nature around you!
Walk the Myrtle Beach Boardwalk
Photo Credit:
Trisha McQuade
The
Myrtle Beach Boardwalk
is the perfect place to have some adult fun as the lights go down. With plenty of options for places to eat, play, and shop, this beachfront piece of paradise has a little something for everyone. These are a few highlights:
Take a Romantic Ride on the SkyWheel
Photo Credit:
Red Lemon
One of the most iconic Myrtle Beach attractions, the Myrtle Beach SkyWheel lights up the night sky along the sandy beaches. Unlike the Ferris wheels of old, this modern ride offers a 360-degree city and ocean view aboard the comfort of a climate-controlled private gondola.
Cast a Line at Pier 14

Photo Credit:
Felix Mizioznikov
A popular place to kick back and relax, you can find a full tackle shop, rod rentals, and delicious food and drinks. After an afternoon of fishing, relax at the only over-water lounge in the Myrtle Beach area! Pier 14 is a popular restaurant and fishing pier found at the end of the Myrtle Beach Boardwalk.
Enjoy Live Entertainment at the Bowery
Photo Credit:
James Kirkikis
The live shows at the world-famous
Bowery
are one of the most fun things you'll want to do as an adult in this South Carolina town.
The Bowery is a decidedly fun and rowdy bar and restaurant with a live music venue for good measure. With tunes playing every night, the Bowery has made a name for itself with not only the house band- The Bounty Hunters- rocking out, but it has also been known to host some legends in concert.
Shop Around Barefoot Landing
Photo Credit:
Sharkshock
The natural beauty of Barefoot Landing is the highlight that sets it apart. With its waterfront location in North Myrtle Beach, this outdoor shopping mall offers views of the Intracoastal Waterway as you meander your way through streets lined with stores, restaurants, and places to see.
Shopping enthusiasts should take some time to explore the many boutiques, specialty shops, and well-known brands. Whether you're hunting for fashion, home decor, or one-of-a-kind gifts, you can find it here!
When your arms are full from shopping, you can enjoy a meal in one of the waterfront restaurants. This venue also hosts some of the most famous festivals in town, including
SeptemberFest
(there's a wine stomping!) or the
SummerFest entertainment series
, which runs all season long!
Get Outdoors at Murrells Inlet
Murrells Inlet is a small fishing town just south of Myrtle Beach. A drive of about twenty-five minutes will take you to this fantastic seaside town with plenty of things to do that are family-friendly for people of all ages. Huntington Beach State Park and the MarshWalk are just a few!
Huntington Beach State Park
Photo Credit:
MarynaG
Spanning more than 2,500 acres, Huntington Beach State Park is a top place to explore for outdoor adventurers and nature lovers. There are miles and miles of beaches and hiking paths that offer beautiful scenery for popular activities like bird-watching, swimming, or surf fishing.
A National Historic Landmark, the Atalaya Castle, is also located here. Initially built by Archer Huntington in 1933, this magnificent building holds much history within its walls and gardens. Guided landmark tours are available, and the castle hosts the Atalaya Festival each year!
Relax Along MarshWalk
Photo Credit:
Elena Simona Craciun
The
Murrells Inlet MarshWalk
is quickly becoming a less-hidden gem in South Carolina's Murrells Inlet. And with good reason! This half-mile stretch of weathered boardwalk will have you knee-deep in nostalgic thoughts in no time.
Surrounded by marshes and beautiful waterways, you can enjoy some quiet or take in a peaceful sunset with a loved one. Perhaps best of all, the MarshWalk is well-known for its delicious array of seafood restaurants.
Wahoo's Fish House
and
Wicked Tuna
are perfect options for a happy hour along the water, complete with fresh oysters or fried fish!
Enjoy the Great Outdoors at Myrtle Beach State Park
Photo Credit:
Chuck Lawhon
There's no shortage of things to do in Myrtle Beach State Park; it's the number one place you'll want to enjoy if you are looking for an outdoor adventure.
As one of the most popular State Parks in South Carolina, you'll find plenty of amenities to assist you in hiking, biking, fishing, birdwatching, and even geocaching!
If you want more time in the water, this is a great place to head out and swim. Or, feel free to bring your gear and head out on the Atlantic for some excellent kayaking and paddleboarding opportunities.
Shoot a Hole in One
Photo Credit:
My Lit'l Eye
Getting competitive can be a blast- especially with other adults! There is no shortage of golf courses in the Myrtle Beach area. You'll find greens ready for the most serious of golfers and miniature golf courses that cater to those who just want a quick tee-off!
For a friendly mini-golf tournament, try
Captain Hook's Adventure Golf
, or for something a little more serious, book into the highly-rated Caledonia Golf & Fish Club for a round of 18 holes. This course has repeatedly ranked as one of the top 100 Best Golf Courses in the United States!
Enjoy a Night Out at The Market Common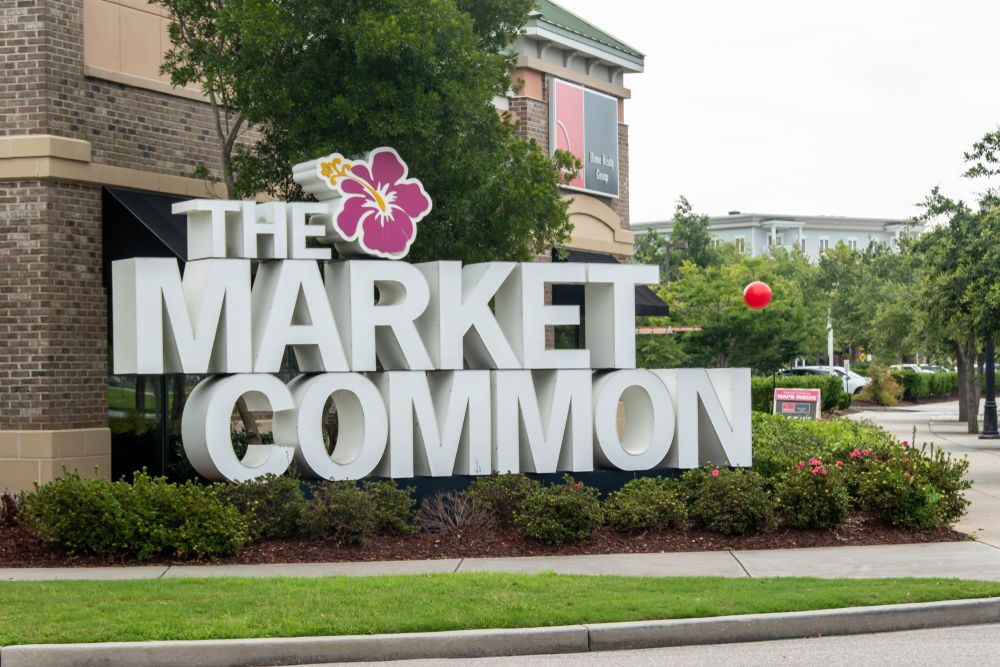 Photo Credit:
Robert Reppert
For a fantastic place to shop, grab dinner, and explore, try the outdoor mall area of The
Market Common
.
Eat at one of the many restaurants along the walkways, or try a fun activity! The Market Common has everything from bike rentals to escape rooms, bowling, and everything in between! There's even a movie theater and DIY sign painting shop where you can take a class and get creative!
Splash Around at Myrtle Waves Water Park
Photo Credit: Fátima Campuzano Guzmán
South Carolina's biggest waterpark has over 30 slides, rides, pools, a wave rider, and plenty of other attractions and rides to keep all the "adult kids" busy! And if active participation isn't your thing, float down the
Myrtle Wave's
lazy river or grab a cabana by the pool for some carefree sunbathing.
Ripley's Believe It or Not Attractions
The Ripley's attractions are alive and well in Myrtle Beach, with
seven different Ripley's museums and experiences
to visit that are just waiting to creep you out or at the least leave you scratching your head.
Adults will love a trip through the classic Ripley's Believe It or Not! Odditorium on Ocean Boulevard or the nearby Ripley's Aquarium. The latter will not only put you up close and personal with sharks, jellyfish, and other sea creatures but is also the launch point for Ripley's Glass Bottom Boat Adventure.
Interactive Ripley's locations, like the Haunted Adventure or the Mirror Maze, also offer excellent group entertainment with a spookier spin.
Visit the Local Wineries
Photo Credit:
Michael Au
Wineries are plentiful in the South, and
Duplin Winery
is one of the best of them. Located just near Barefoot Landing, the winery is a beautiful place to spend the afternoon. Duplin allows you to take a virtual tour of their main winery (located in Rose Hill, NC), enjoy a wine tasting, and even bottle your own specialty wine by hand!
Another winery worth visiting,
La Belle Amie Vineyard
, has a location in the Little River portion of North Myrtle Beach. Enjoy music on the outdoor deck as you sip on a glass- or try your hand at a wine tasting. Just keep in mind tastings are only available on Wednesdays or Saturdays.
Explore the Craft Beer Scene
Photo Credit:
WS-Studio
If beer is more up your alley, there are plenty of breweries to hit up on your trek to find the best IPA. In recent years, the craft beer scene in South Carolina has flourished thanks to a long-standing brewing tradition that dates back to colonial times.
Today, the state is home to over 120 breweries and counting, each offering unique takes on classic styles along with experimental new flavors. Some of the best in Myrtle Beach include the
Tidal Creek Brewhouse
,
New South Brewing
, and the
Grand Strand Brewing Company
.
See a Show at the Carolina Opry Theater
Photo Credit: Lyssiemay Annoh
The art and music lovers will adore seeing a show at the Carolina Opry Theater. From upbeat music and dance events to the Carolina Opry Christmas Special, you can bet that whatever live event is happening here will exceed expectations and have even the most reluctant traveler tapping to the beat.
Adult Fun in the Sun in Myrtle Beach
No matter how you swing it, there are
plenty
of things to do in Myrtle Beach for adults. From theater shows to winery tours and outdoor adventures, you'll never be hard-pressed to fill your days. After you've hit the town and soaked up the sun,
hotel BLUE
will be waiting to welcome you home!